We've never been known as big talkers – and we think that's a good thing.
At TSI Colorado, we prefer to let results speak for us.

"I work for a nonprofit that utilizes TSI's services. This company is great to work with. The staff are very friendly and responsive. When we submit a ticket for service support, they engage with us promptly to meet the need. I would have no hesitation to recommend TSI to anyone."

- Candace Joice, Lantern Audio
"TSI Colorado has been providing our company with IT support services for about a year now, and they are FANTASTIC. Their customer service is excellent, their response and turnaround time is impressively fast, they know everything about everything, and honestly they are just fun, kind, pleasant people to work with. They've proven themselves to be trustworthy and reliable, and I feel like we are getting very good value for our money. I recommend them 100%."

-Sarah Klein, Epilepsy Foundation of Colorado & Wyoming
There's a Problem
with the Way Most IT Providers Approach Business IT Support
Stop us when this starts to sound familiar...
Don't Settle for Less
When You Need More from Your IT Partner

TSI Colorado set out to solve what was then a major problem for small businesses: having difficulty keeping up with their IT needs. We noticed that large corporations often had multiple employees specializing in different aspects of the industry and realized this approach could work well also among smaller organizations who might not be able to sustain such teams, but still require help managing an oversized workload.
We provide a single resource for all your IT issues.
Dedicated account manager

With the basics of your company all under control, you can focus on more profitable ventures for your company.

Save money with predictable fees

With our flat rate IT support and managed services, you'll save money every month that would have been otherwise used for your technology breakdowns.

Protect yourself with cybersecurity

Don't worry about your network being down at awkward times anymore. With TSI Colorado's 24/7 monitoring, you can trust your network will be running when youneed it.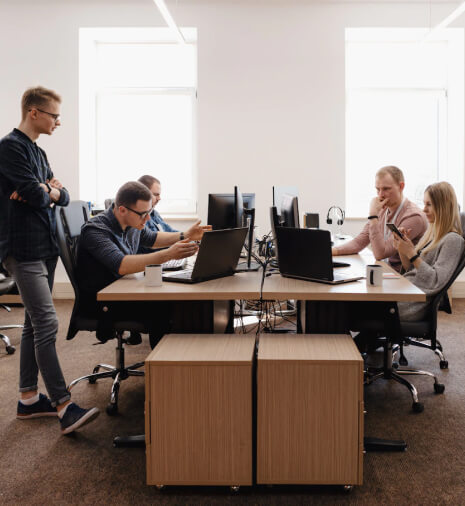 "It's not that we use technology, we live technology."
With the proper level of IT services and IT support, there's literally nothing your business can't accomplish. That's exactly what we want for you and, at the end of the day, that's what our IT consulting and managed IT services are all about.
Getting started is easy. Give us a call at 719.266.3774 or complete the form below, and we will get in touch with you to set up an introductory phone call.
What Makes TSI Colorado Different?
We Take a Personal Approach to IT Support
Clients Love Us
Customer support is our top priority. We do what we say that we are going to do while maintaining fair, transparent pricing.

Transparent Billing
All items are detailed, so it is clear what you are paying for. Enjoy peace of mind with a predictable cost.

Availability
Our team is well equipped to support your IT environment remotely. Local resources are also available for site visits.

The IT Risk Assessment
A constantly evolving checklist to ensure that client systems are as stable and consistent as they can be.

Communication
Client satisfaction and communication are key. Quarterly business reviews and meetings ensure that we meet your expectations.

Managed IT Support is Everything You Need "Day to Day"
Some other providers don't include things like new PC deployments and system upgrades.
See What TSI Colorado Clients are Saying
"The team at TSI continues providing critical technology supports to our team at Tri-Lakes Cares as we embark on leveraging IT and office applications to a greater degree. Everyone at TSI is highly responsive and always ready with thoughtful advice that goes beyond fixing and closing a ticket. Jason and his team are experts at what they do and always respond to our requests and questions with great integrity, patience, and professionalism in each interaction. We highly recommend TSI and their services for any organization's information technology needs. We are grateful for TSI to have our back in keeping our IT environment operating and growing."

- Dieter Famula, Tri-Lakes Cares
"I had never even owned a computer before this year. The pandemic sure did change a lot of things. My regular go-to computer at the library was suddenly out of reach, and I had no way to contact the lovely librarian, Barb, who assisted me with typing while I dictated to her. Oh, I miss you Barb. Now with needing a home computer, I sought out assistance elsewhere. Boy, was I overjoyed with finding TSI! While I will miss Barb and hold her in my heart dearly, Dylan from TSI has helped me gain self-confidence in my computer usage, and I will never go back to dictating to the librarian again. TSI has changed my way of viewing technology. I owe Dylan my life."

- Amethyst Montoyam
Paolo's Italian Kitchen LLC
Avoid the Headache of Managing Your IT Internally
Our managed IT services offerings give your business everything it needs to leverage modern technology to your advantage. No Hassle, No Hidden Costs.
At TSI Colorado, we've designed our managed services offerings to give businesses like yours the benefits of having your own in-house IT department - at a fraction of the cost and with none of the headaches that normally come with it. Everything you require to leverage modern technology to your advantage - from help desk support to vendor management, backups to disaster recovery - is all provided with a fixed, predictable monthly cost.
Need help with an upcoming project? Let's work together to get it done on time and on budget.
At TSI Colorado, we understand you need dependable IT support you can trust. We offer a wide range of IT project and IT consulting services for you to choose from, whether you're looking for a major infrastructure upgrade, strategic IT planning or something far smaller in scale, we've got the experience and expertise to help.
Want Fast New Computers,
Tired of your Old Computers?
The reality is that we have to spend marketing dollars to get customers and we would rather invest in your infrastructure, making it easier for us to support, than spend a bunch of money on advertising. You win, we win, it's a win-win and how solid partnerships begin!
Periodic hardware failures and new or updated software are common. Although not considered maintenance, we include handling these situations alongside general maintenance, and they are included in our services.
It's important that you report any issues as soon as possible so we can help resolve them. You can either report them yourself or have your employees reach out to us directly. Either way, we'll be able to help resolve the issue quickly and efficiently. You'll never have to worry about hidden fees or unexpected charges with us.
We pride ourselves on providing excellent customer service. When you call us, you can expect a rapid, courteous response from a real person. We understand how important it is to be able to speak to someone directly when you have questions or concerns, and we will do everything we can to address your needs.
Our IT staff is also certified in a variety of industry-leading technologies. This allows us to offer our clients a wide range of services and support. We are committed to providing our clients with the best possible service and support.
As a leading provider of proactive cybersecurity solutions, we are committed to helping our clients stay one step ahead of the latest threats. Our comprehensive monitoring and detection capabilities provide early warning of potential attacks, allowing our clients to take preventive action before it is too late.
In addition to our proactive monitoring solutions, we also offer a full range of vulnerability scans, intrusion detection, and network security services. Our team of security experts are constantly monitoring the latest threats and developments in the cybersecurity landscape, so you can be confident that your business is always protected.